Introduction
We have reviewed the Top 5 best diabetes testing kits for you to save you time and money. They are one of the best sugar test machine amazons; Contour Next Diabetes Testing Kit, Care Touch Diabetes Kit, Easy Touch Diabetes Kit, One Touch Testing Kit, and ACCuChek Aviva plus Meter diabetes kit.
It is good to check your blood sugar at least three times daily, most especially when you take insulin, or you are on an insulin pump. Diabetes patients generally are expected to test their blood levels regularly to know their blood glucose and the steps to take in keeping their health in a better condition.
When you check your blood sugar using the best blood sugar testing machine regularly, it helps you to avoid getting long and unexpected health problems that can come up as a result of the blood sugar. Type 1 diabetes and type 2 diabetes sticking to your target blood sugar.
Top 5 Best Diabetes Testing kits
1 Contour Next Diabetes Testing Kit: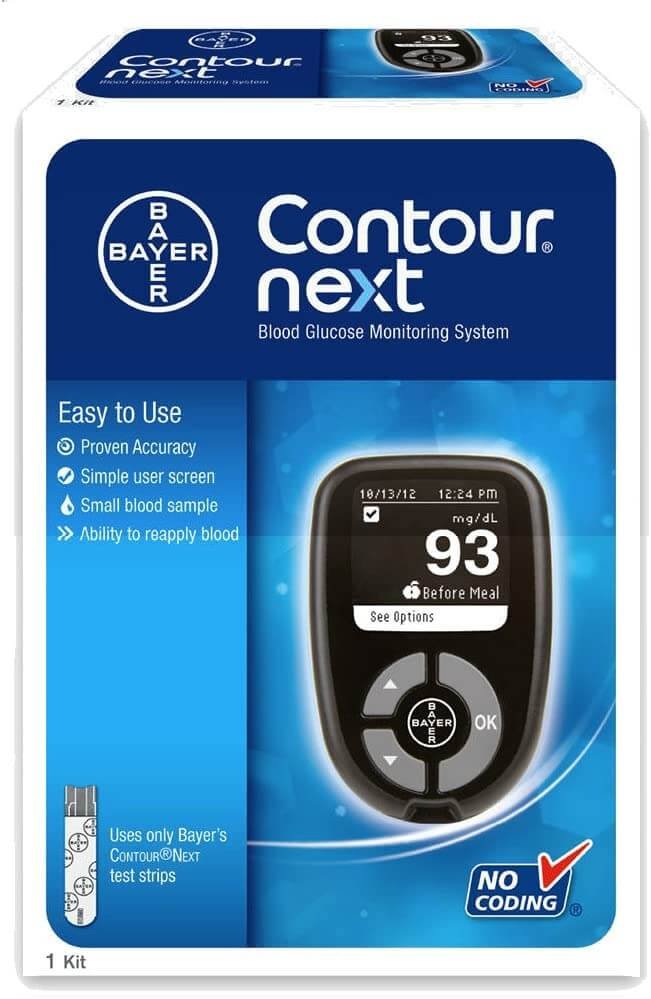 The Contour Next EZ, being one of the best blood sugar testing machine suitable for people with diabetes and for those who don't like the noise of bells and whistles on a monitor.
The display screen of Contour Next is not blacklight which can make it a little bit difficult to read in low lighting. It is about 3 inches tall and 2 inches wide, making it easy to handle.
To use a contour next testing kit, you have to place a fresh needle into the lancet pen, then take a new test strip designed for the contour next one and put it in the meter.
Place the lancet pen on your finger and press the button to create a small blood sample after which you now absorb the drop of blood with the test strip. Wait for few seconds for the meter to provide the reading, then you will see the results displayed on the screen.
Pros
Fairly affordable test strips
Accurate result in less than 5 seconds
Second chance blood sampling
Lightweight (1.7ounces)
The memory capability of 480 values
5-year manufacturer warranty
Cons
No alternative-site testing, the only fingertip blood sample can be used for testing
Black and White display which makes it difficult to read in poor lighting
2 Care Touch Diabetes Kit: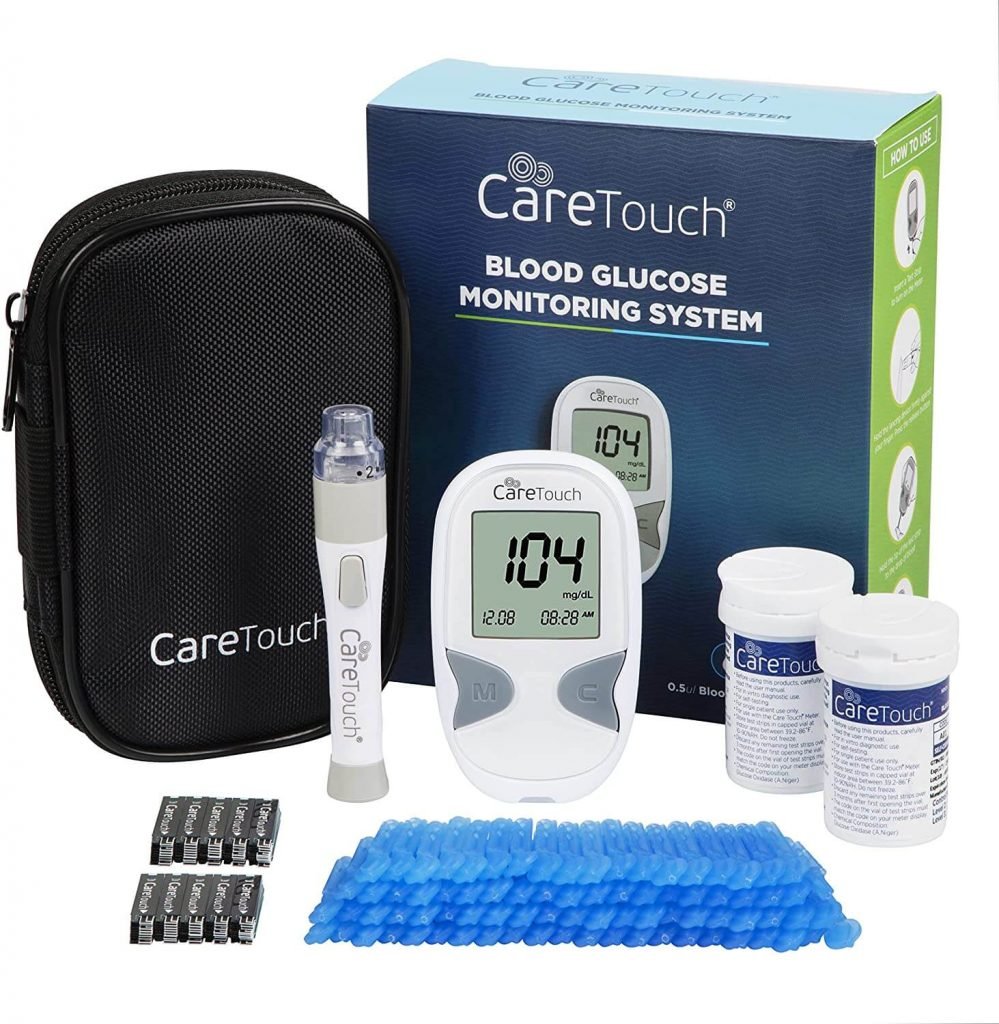 Care Touch Diabetes Testing Kit is a CareTouch glucose monitoring system, also one of the best sugar test machine amazons that have no coding features, it reads within 5 secs, and requires a small blood sample.
It has everything you need to begin testing, just open the kit and you will find all the necessary accessories. It has a high memory capability saving up to 300 readings, keeping a continuous 14-day average.
CareTouch meter kit is one of the best diabetes self-testing kits offering the high value of any home diabetes testing kit and monitoring system available in the market. It also includes a single touch strip ejection such that you no longer have to worry about removing the soiled trip manually.
Pros
It is easy to use
It has a widescreen which making it easier to read
Auto-coding, it requires no coding as the monitor recognizes batch codes encrypted on each test strip.
Fast results within 5 seconds
It has high memory storage-saving up to 300 readings while keeping a continuous 14-day average
It is comfortable to hold and travel friendly
Tiny blood sample and eases pain
Auto shut-off in two minutes after the last action
Cons
It doesn't come with an alcohol swab, you have to wash your finger before puncturing your finger
3 Easy Touch Diabetes Kit: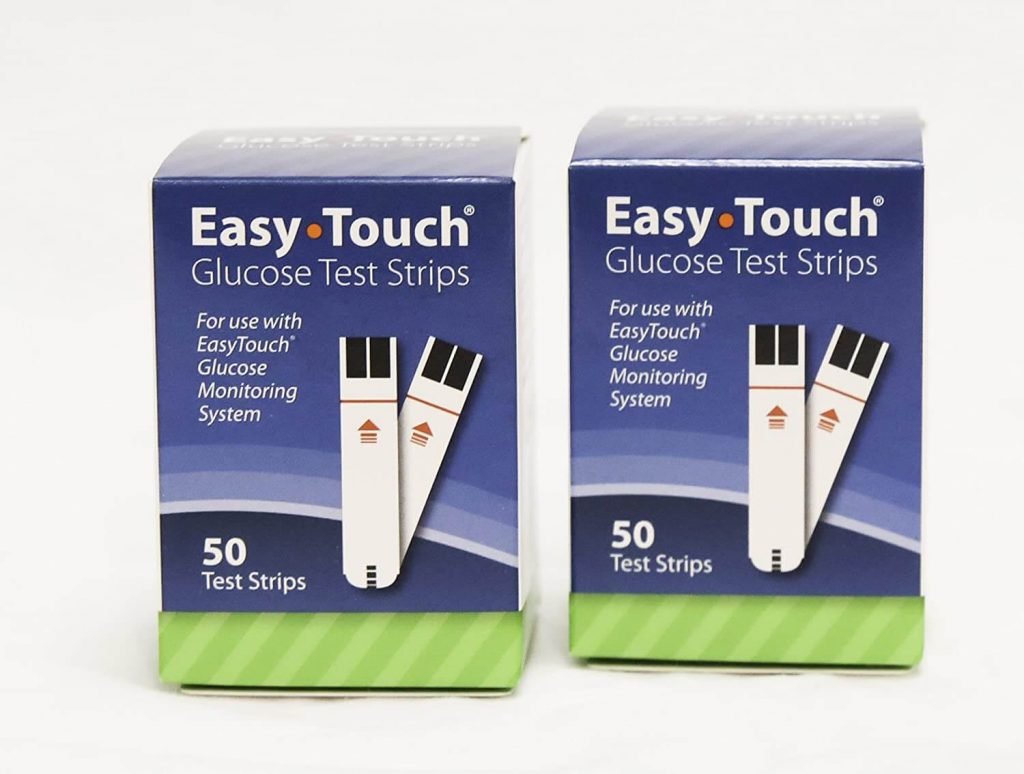 Easy Touch Diabetes Testing Kit consists of the Easy Touch Blood Glucose Meter, 100 Easy Touch Blood Glucose Test Strips, Easy Touch Adjustable Lancing Device, Easy Touch Owner's Manual, Logbook, 100 Easy Touch 30G lancets, and Carrying Case, Virtually everything you need for at-home diabetes testing kit.
The lancing device can be adjusted to 5 different levels of depth after placing your samples on the testing strip. Then the meter will show the final readings in 5 seconds. Easy Touch is one of the best blood sugar testing machines and ranks among the first 5 sugar test machine amazon.
It is durable and comfortable to use as a carrying case holding all the accessories mentioned above making it easier to travel with this diabetes self-testing kit.
The Easy Touch glucose monitoring allows you to obtain a fresh blood sample for glucose testing from different areas of your body, that is, you can test your glucose levels from your palm, your fingertips, and your forearm.
Pros
Fast result in 5 seconds
Alternate site testing
It comes with 100 test strips with a long time expiry date
It has a sturdy carrying case which makes it easier for travelling
It has no coding
It has an alarm setting
Cons
Control solution has to be bought separately
4 One-Touch Testing Kit: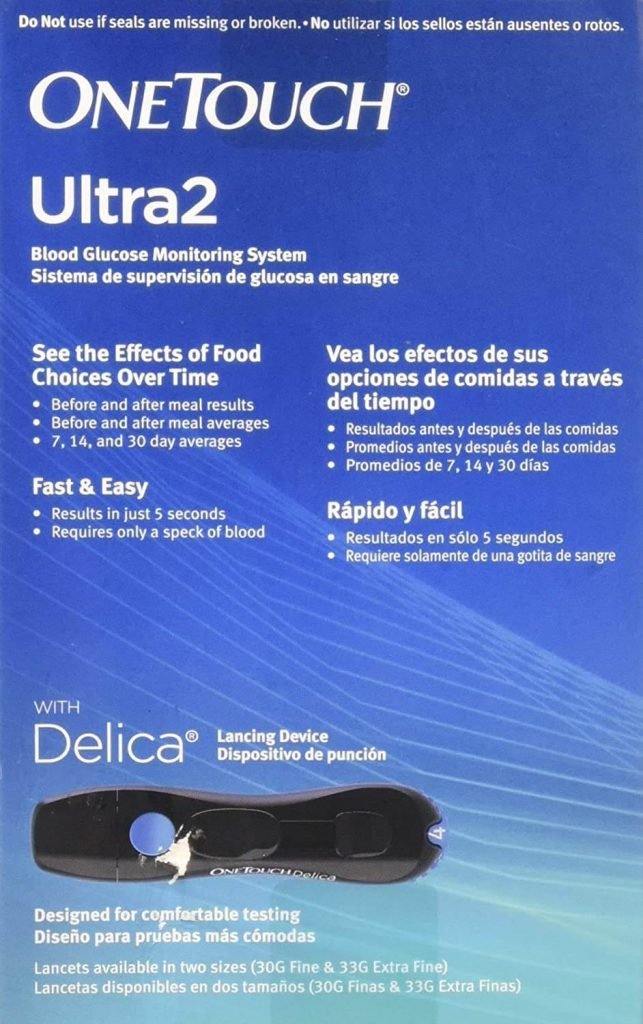 The one-Touch Testing kit is one of the best blood sugar testing machines that offers a unique variety of features that can detect and monitor any fluctuations in your blood sugar level.
It has a new line of meter called the One Touch Verio which consists of the blood glucose meters and testing stips that makes it more convenient to use and also paves the way for smart testing.
The new Verio brand of meters, a sugar test machine amazons has three different meters, each with their unique advantages, and the meter is built with simplicity in design, easy to read results keeps you informed with reports on your trends.
Pros
Easy to read display
Great for night-time testing
No coding
Minimal blood sample required
Ability to spot trends
Packaged in a convenient and well-arranged locking case
Has a high memory capacity, holding up to 750 readings
Cons
Test strips are expensive
Accuracy issues; the result is sometimes lower than the actual reading
Uses AA battery and it is not rechargeable
Data cable software must be purchased separately
It does not support alternative testing sites
5 ACCuChek Aviva Plus Meter Diabetes Kit: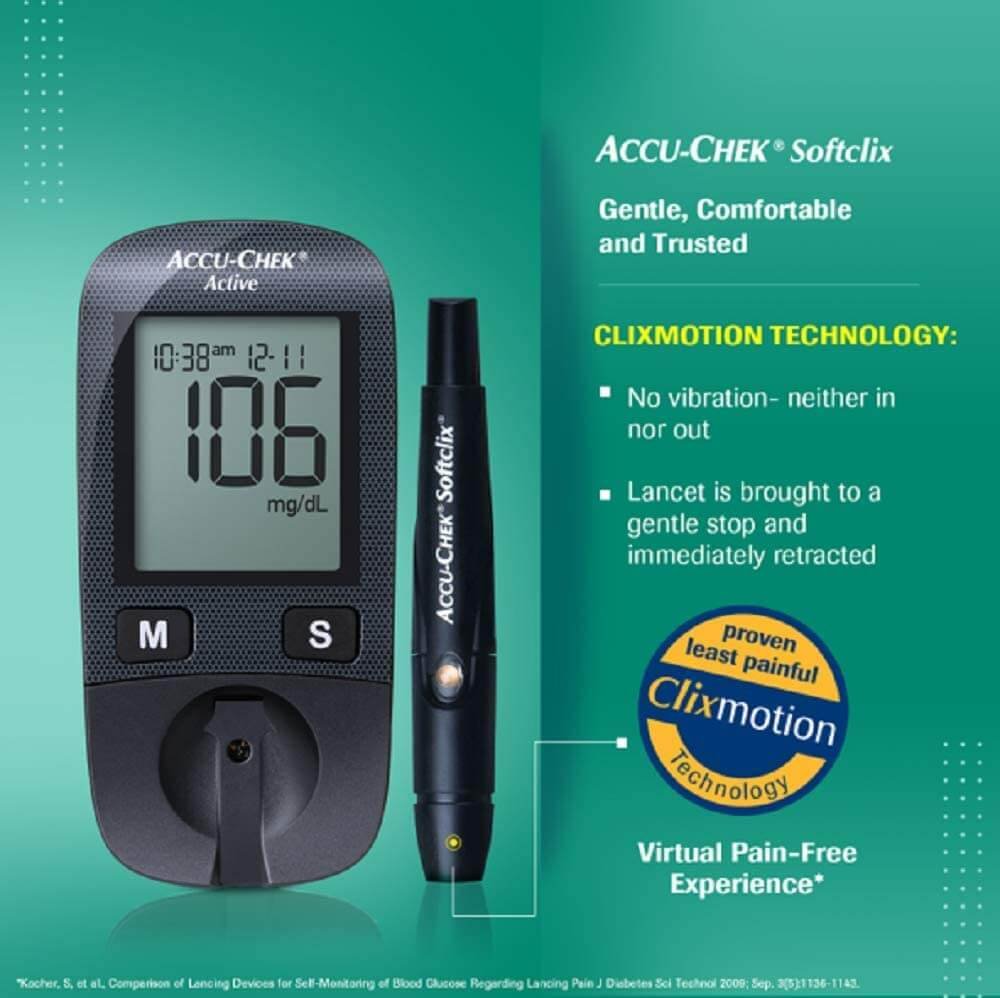 The AccuCheck Aviva provides accurate results but at a higher cost compared to the other glucometers available in the market, the AccuChek Aviva connect got its name from its main feature which is the Bluetooth that connects it to a mobile app on your smartphone.
This will give accurate data management of your reading so you can spot patterns and treat your diabetes better.
It is a diabetes self-testing kit that is easy to use and helps reduces pain associated with testing, the lancet device included with the Accu-Chek advantage also provides 11 separate depth settings which allow people to match their testing to their skin type.
Pros
Bluetooth connectivity
High contrast display
Test strips are available both online and in-store
Easy to handle interface and the test strip fill quickly to make sampling much easier
It has high memory capacity, holding up to 500 blood glucose results including 20 control tests
It has an indication for before and after meal being marked to help you know how food affects your blood sugar, and you can set up to 4 customizable test reminders.
Cons
The high cost of test strips
Advantages / Benefits of Diabetes Testing Kits
Diabetes self-testing kit or self-monitoring of blood glucose (SMBG) popularly known as Glucometer is the most beneficial for people with diabetes.
Self-monitoring of blood glucose means using a home diabetes testing kit to check your blood glucose. This involves the regular blood testing of blood sugar to control one's diabetes and also check the changes which help to improve one's control or know what to do next.
Home diabetes testing kits help you to gain control over your health and its improvement, this assists the doctors in knowing what to input text into your diabetes treatment plan.
A home diabetes testing kit also helps to maintain better blood glucose levels and encourages you to be more effective and not giving up. When you know how well your health is improving, you are encouraged to take better care of yourself and ensure a healthy diet every single day.
Self-monitoring of blood glucose has so many health benefits to careful management of levels of blood glucose and also when you keep a logbook and share the result with your health care members, it will help them to detect what is working and what is needed to change thereby improving your diabetes self-management plan to help keep your blood sugar levels under control.
At home, the diabetes testing kit is easy to use, provides fast results, and involves blood drops with the use of a lancet to analyze it. Before testing your blood, ensure that you also wash your hands and neatly conduct the test, be sure to follow the instructions of your test kit to have an accurate result.
There are many benefits of Diabetes testing kits, some of which are;
It allows diabetics to take proper care of themselves without the need to visit doctors and lab on a daily occasion
It will enable patients and clinicians to determine high or low blood glucose levels, thereby helping to adjust the management health plan to achieve a better result
It helps to detect and confirm hypoglycemia or hyperglycemia
It helps to determine the kind of food or diet plan that is best for your control
It motivates people towards healthier behaviour
Diabetes self-testing kit helps in detecting infections as high blood sugar can be a sign of disease or illness.
It promotes the well-being of the patient
The meters help in altering medications and ensures a better understanding of medications.
At-home diabetes testing kits help to worry less and know if you have hypoglycemia so you can treat it immediately.
Tips for Diabetes Testing Kits
Testing your blood sugar is an essential aspect of managing and controlling diabetes when you know your blood sugar on time, it helps you to see when you are out of the target range and also prevent any likable emergency.
Diabetes self-testing kits can be used to test your blood sugar level anywhere at any time, using an at-home diabetes testing kit helps to regularize your blood glucose using the home blood glucose meter or the glucose monitor.
Meanwhile, getting an accurate result depends on how you make use of the following tips when testing;
Always keep your meter and supplies with you all the time, most especially when travelling. Ensure your kits consists of the lancets, alcohol swabs. Testing strips. And other necessary things required in monitoring your blood sugar.
Ensure that your strips aren't expired. Expired strips may not guarantee accurate results and these will affect your daily log of glucose numbers. This might even make your doctor give you a wrong diagnosis based on an inaccurate result. Keep your strips safe out of sunlight and moisture, your strips should be kept at room temperature.
Wash your hands to prevent infection. Use a good quality soap and water to wash your hands if you are by a sink, using the alcohol swab is okay to use too, just make sure you do this before you prick your fingers. There is no point in using alcohol after washing your hands, this is just to remove residue and specks of dirt to clean the finger before you test.
Ensure you dry your hands after washing it and if you are using an alcohol swap or hand sanitizer before testing, be sure to dry thoroughly as excess moisture and alcohol can dilute with your blood sample leading to inaccurate results and wrong diagnoses.
Do not squeeze and rub your finger after pricking, this can affect your blood sample. Ensure there is enough blood for testing because the meters won't display if the blood on the strip is not enough.
Test on the finger is the best though some meters allow alternative sites like palm or forearm for pricking, which are also less sensitive to pains, unlike the finger. Should in case your blood sugar is changing rapidly and increasing or reducing, it is better to use only a finger test.
After turning on your Glucometer, place a test strip in the machine when it's ready and watch the indicator for identifying the blood on the strip.
If your meter requires coding, you will need to input the number or use a chip anytime you open a new bottle of test strips. If you feel your meter is giving wrong information, make sure your meter is updated with the code from the latest test strip bottle. Using the correct strips and storing them appropriately is necessary because if the strips are not appropriately kept, it may yield a poor result. Do not use strips that are not approved for your meter else you won't get the accurate result.
Ensure you have a routine you follow for regular checking of your blood sugar, you might also want to set alarms to help you remember to test.
Create a journal to keep a record of your blood sugar each time you test it. This will help you manage your health and also provides you with information on how your body responds to a particular food, medicine, and exercise. It allows your doctor to examine you well and gives the right diagnoses.
Protect your diabetes testing kit; don't store your meter and strips where it is too hot or too cold. Always keep at room temperature.
Avoid sharing your blood sugar monitoring equipment with anyone else, make sure you dispose of the lancet and strips after each ease and ensure the bleeding from your finger stops before you resume activities.
Things to look for when buying Diabetes testing Kits
A diabetes self-testing kit or Glucometer measures the level of glucose in your blood, they are used with test strips to collect droplets of blood which is tested and the result helps to regulate insulin.
However, there is a luxury of choice of diabetes self-testing kits, they are quite different in one another which is why I am sharing with you the essential things to look for when you want to buy your diabetes self-testing kit.
Choosing the right meter helps to know the basics of how they work as they differ in type and the features they offer. Consider the following factors when buying Diabetes testing kits;
Ensure you have a Good Insurance Coverage: some insurance providers limit coverage to specific models and also limit the total number of test strips allow, make enquiries about the insurance cost of testing strips and other things necessary.
Meter Cost: Meters vary in price; some meters are costly, be sure to confirm if the cost of test strips is included or you will have to buy test strips separately.
Ensure that it is easy to use and maintain: some meters are more comfortable to use than others, like the testing procedures. You should also confirm if it's easy for you to hold and use. Check the screen if you can see the numbers and how easy is it for blood to get onto the strips.
Duration of Time to get results: know the seconds or minutes it takes to get results as the amount of time adds up when you are testing several times in a day.
Keep records of your glucose numbers requires consistency for a long term, writing it down in a logbook every time you test can be uncomfortable for some and this will help you choose a diabetes testing kit that takes reading and also record them but for some who are comfortable with the use of logbook for taking the record, you might not need a meter that records reading. Some meters create logs that you can retrieve later or a file you can download when synchronized with your computer, this can even be emailed to your doctor.
Make inquiries about the unique features to see what meets your specific needs. There are various unique features like audio capability for people with vision impairment, backlit screen, memory capacity, different handling capability, easy-to-handle buttons, test strips, colourful options that are available for kids.
Check for Support: Many manufacturers of Diabetes testing kits has a toll-free number that you can call for help. Go for a meter with clear instructions demonstrated or written on the correct application of the meter, you can also check for websites of the company for manuals on how to use the Glucometer.
FAQ's
How can you test for diabetes at home?
Testing your blood glucose at home is the safest and affordable way to check for diabetes before it results in severe complications.
At-home diabetes testing kit helps to read testing strips which allows the machine to detect the amount of glucose in the blood obtained with a lancet and a needle.
To get a valid result, have a record or log of the food you eat and watch for changes in your blood glucose readings, and ensure you read the manual for the testing strips and the blood glucose monitor as they work in diverse ways.
Home testing involves the following steps;
Ensure you dry your hands after you might have washed them before handling the testing kit and taking a sample
Put a lancet into the lancet device to make ready for use.
Input a new test strip into the meter
When you want to test on your finger, use the side of your finger and you can use different fingers on different testings. Prick your finger with the lancet and set how deep you want it to penetrate your skin. If you have thicker skin, you should set the penetration to a higher level.
Squeeze the finger gently and allow a drop of blood to flow onto the test strip while you wait for the result
The meter will show on the screen your blood glucose level after a few seconds.
Record and log on the blood glucose reading after each test.
---
ALSO READ
BEST MULTIVITAMINS FOR DIABETICS
---
Are home blood sugar tests accurate?
All home glucose meters measure the whole blood. Home blood glucose meters are known to be accurate if the result is within 15 percent of what a lab test indicates.
If you want to confirm the accuracy of your meter, take it to a lab glucose test and check your blood at the same time your blood is drawn for lab tests, then compare your meter's reading with the lab result or better still, ask the lab to process your blood sample within 30 minutes.
How can I tell If I'm diabetic?
Diabetes is a severe medical condition and needs to be treated; its all start with managing your blood sugar and regularly monitoring them to be sure they are within their target range.
The signs that show you have diabetes can be so calm that you don't even know you have them, most especially for type 2 diabetes. Most people find out when they have problems with wounds caused by diseases or accidents.
Type 1 diabetes symptoms happen quickly in a matter of days or weeks and get much severe if not treated.
Here are the basic early signs of diabetes you should note, these signs are for both type 1 diabetes and type 2 diabetes;
Frequent Urination: High blood sugar caused the kidney always to want to remove much sugar by separating it out of the blood which results to the person urinating more frequently, most especially at night
You will feel more thirsty due to frequent urination. This causes dehydration and causes a much hunger for thirst than usual.
Hunger: A person with diabetes do not get enough energy from the food they eat, after the food in the digestive system breaks down into the glucose, only a few moves from the bloodstream into the body cell for a person that has diabetes, this results in getting much hungry than usual.
Fatigue: This occurs as a result of the low sugar moving from the bloodstream into the body's cell, this has an impact on a person's energy causing them to feel so much tiredness.
Blurry vision: Too much sugar in the blood damages the tiny blood vessels in the eyes resulting in blurred vision. Changing fluids level in the body also can make the lenses in your eyes swell up causing changes in shape and lousy focus. If a person with diabetes does not treat their health, it may lead to severe damage to the blood vessel causing permanent vision loss.
Dry mouth and Skin itching: Dry skin causes itchiness as a result of dehydration, and dehydration causes your mouth to feel dry.
Cuts and Wounds heal slowly: High blood sugar affects the flow of blood resulting in damage of nerves which makes healing of wounds difficult. Slow wound healing leads to increase risk of infections.
Pain or numbness in the feet: High blood sugar levels affect blood circulation resulting in nerve damage, this can lead to pain or tingling sensation and numbness in the hands or feet. It is known as neuropathy condition and gets worsen over time if it's not treated on time, serious complication follows.
Yeast Infections: Both genders with diabetes can get a yeast infection. When the amount of sugar in the blood and urine is in excess, it provides food for yeast, and having plenty around makes it increase and leads to infection. Yeast infection grows in any warm, moist areas of the skin such as the mouth, genital areas, between fingers and toes, under breast, and armpits. These affected areas cause itchiness and also leads to burning, redness, and soreness.
Skin discolouration: patches of dark skin on sensitive areas of the body such as the neck, armpit, or groin signifies a higher risk of diabetes. These patches feel very soft than usual, it is a skin condition known as Acanthosis Nigricans.
Can I test myself for type 2 diabetes?
Over 40% of adults with type 2 diabetes don't know they have it which means a lot of people out there are not getting treatment to protect themselves from serious complications ahead of them such as stroke, blindness, kidney failure, and heart diseases.
While you can get yourself a diabetes self-testing kit which is an essential tool in managing your diabetes and preventing complications, it is also crucial and even the best option that you make an appointment with a medical examiner to have your blood tested for type 2 diabetes.
When an individual shows symptoms or signs of type 2 diabetes, diagnostic tests are performed and such tests are not the same as screening. Screening is to identify asymptomatic individuals who are likely to test positive for diabetes. It is the screening results that determine the type of diagnostic tests that will be done using standard criteria.
A person cannot diagnose diabetes using home testing alone when you have unusual readings or high numbers records, you don't have to panic. Your doctor might need to carry out other tests like HbA1c, oral glucose tolerance test, or using a combination of these to verify if you have the disease.
What does a diabetic attack feel like?
A diabetic attack occurs when diabetes symptoms overwhelm the body. Diabetes is associated with having high blood pressure, too much sugar, and slow healing of wounds and cuts.
During a heart attack, you might not notice a thing. It's just like being muted on what is supposed to feel but the consequences are severe and real.
Some people don't experience the signs at all, even if there are any symptoms at all, it is always mild and doesn't stay for long. You may also feel some pain, pressure, or squeezing in the center of your chest instead of the left side of your chest.
There are ways to protect yourself from a heart attack caused by nerve damage, here are the symptoms to watch out for;
Some of the signs that indicate serious problems are;
Chest pain that affects the arm
Severe headaches and weakness in one side of the body
An irregular heart rate that is prone to heart attack
Convulsion; this can leads to coma
Fever
Loss of consciousness
Dizziness and seizures
Sweating more than usual or having clamming hands for no reason
Shortness of breath even without doing much work
Without quick help, some diabetics attacks can be life-threatening, the person should go to the emergency room or a call is put through to the emergency unit
Why is it important to wipe the first drop of blood?
The first drop of blood does contain a greater volume of fluid or higher potassium levels which tampers with the result of the early strips.
Another reason for wiping the first drop of blood is that the alcohol in the prep pad which is also on the fingertips tampers with the values.
The first drop is always discarded because, the content of the blood interferes with the surface of the skin allowing microorganisms to mix with the blood likewise the alcohol gets mixed up with the blood sample taken, resulting in an inaccurate result.
You can wipe away the first drop of blood using gauze to remove the tissue fluid contamination. There is a lower blood volume requirement now and with the enzymes used in the current test strips being produced, a double drop of blood is not necessary.
Is there a quick test for diabetes?
Type 1 diabetes symptoms sometimes appear suddenly, this is the reason patients are asked to check their blood sugar levels as the first test.
Other types of diabetes and prediabetes do not show up at once, it comes gradually and may not be evident. There are guidelines recommended by the American Diabetes Association (ADA) for screening, they are;
Anyone with a body mass index higher than 25, regardless of age with additional risk factors such as abnormal cholesterol, heart disease, high blood pressure or relatives that have diabetes
Anyone older than age 45 should receive a pre-blood screening, if the results come out to be expected, the person should go for screening every three years
Any woman who has had gestational diabetes is admonished to go for screening every three years
Diagnosed prediabetes patients are advised to go for testing every year
Individuals between the ages of 19 and 44 who are overweight and obese
For type 2 diabetes which often develops in adults and few children, experts recommend that they test children between the ages of 10 and 18 who are overweight or obese, and maybe have at least two other risk factors for developing diabetes, other factors are;
Low birthweight
A woman who had diabetes while pregnant with the children
What is a good HbA1c for type 2 diabetes?
The usual range for HbA1c level ranges from 4% to 5.6% for people that don't have diabetes, for those with higher chances of getting diabetes, the HbA1c is between 5.7% and 6.4%, and for diabetes patients, it is of the levels 6.5% or even higher than that.
Diabetes patients should do this test regularly to ensure their levels are staying within range. The aim for HbA1c for diabetes type 2 patients and other types is usually less than 7%, if it goes higher than that, the person is at the risk of having complications relating to diabetes.
What is a silent heart attack in type 2 diabetes?
A silent heart attack is a heart attack that has minimal to no associated symptoms. You might know you have it because the symptoms are mild, heartburn, pain, illness, fatigue, and indigestion.
A heart attack causes a big problem typically in the chest, arm, or jaw. You know that you have the symptoms which are apparent to you. Still, in the case of a silent heart attack, it's like you feel numb about what you are supposed to feel.
Its consequences are leaving behind scar tissue, heart weakening, and an increased risk of a severe heart attack, particularly for type 2 diabetes patients.
According to research, Expert reveals that about 18% of type 2 diabetes patients are likely to have suffered a silent heart attack without knowing it. Type 2 diabetes patients must be more vigilant in maintaining and monitoring their health.
What is the diabetic rage?
Diabetic rage is sometimes caused as a result of resentments and anger of a person having to live with diabetes, the person may not be aware of it.
When someone's blood sugar fluctuates, spikes or drops, it produces a feeling of anger, depression, or anxiety that is uncontrollable for the person and those that are around her.
Which finger is best for glucose testing?
To test your blood glucose, the middle or ring finger is highly recommended to use by the World Health Organisation.
The center or ring finger is the second or third finger and should be tested along the edges of your hand which is less painful than the tips.
What is the highest blood sugar level that is safe?
An average person has a normal glucose range of 70 – 105 mg/dl in a fasting state and 140mg/dl after eating.
Diabetes patient with a right glucose level has 100mg/dl or less while fasting and 180mg/dl 2 hours after eating and for a diabetes patient with higher glucose level or hypoglycemia, the glucose level ranges from 200 – 400 mg/dl.
However, we still have diabetics with blood sugar higher than that.
How can I test my diabetes at home without a machine?
You can test your diabetes at home by following these traditional home blood testing tips;
Pierce your finger with a sharp needle often called a lancet
Put a drop of blood on the test strip
Place the strip into a meter, you will see a display of your blood sugar level on the screen
What is the best time to check blood sugar in the morning?
The best time your doctor will likely ask you to check your blood sugar is between 2 a.m. and 8 a.m., which is the early jump in your blood sugar, it is often called the dawn phenomenon or dawn effect.
Is clear urine a sign of diabetes?
When a diabetes patient has clear urine occasionally, it means the person is well hydrated or too hydrated. A diabetes patient often experiences excessive thirst, which makes them drink lots of water. The kidney reabsorbs more water and puts out concentrated urine, the ADH (arginine vasopressin) falls, then comes out in clear and dilute urine. This condition is called Diabetes Inspidus.