When anyone has diabetes, then he has to focus on their diet. Bitter melon for diabetes is the best meal ever as it is nutritious and beneficial. By adding good food and exercising, one can maintain their blood sugar levels.
Bitter melon is a vegetable that is bitter and contains vitamins and minerals. Many different illnesses and chronic diseases can be cured with bitter melon. These diseases include asthma, skin problems, diabetes, and other stomach issues.
What is Bitter Melon? 
This vegetable contains vitamin A, beta-carotene, minerals, iron, potassium, and vitamin C. These melons are also called bitter gourd, bitter apple, bitter cucumber, and karela at different places. One can find these in two common variations, which are:
Chinese Bitter Melon: This variety is long and light green with bumps on the surface.
Indian Bitter Melon: these are narrow and have a rough surface. Also, the bumps on them are a little pointed.
Why Do You Need Bitter Melon for Diabetes?
Many people get curious as they are advised to have bitter melon for diabetes. So do they think is bitter melon good for diabetes? That is true as it can help decrease your blood sugar level.
It effectively treats hyperglycemia and high blood sugar from the baseline. Many researchers have also discovered that these can lower glucose levels to a certain extent.
People who have diabetes usually have a higher level of hemoglobin A1C levels. Having bitter melon regularly in a particular quantity can help you lower your hemoglobin level.
Having bitter melon for diabetes can also help speed recovery. When people get diabetes, their wounds do not heal quickly and take time. But one can increase the pace of recovery by adding bitter melon to their diet.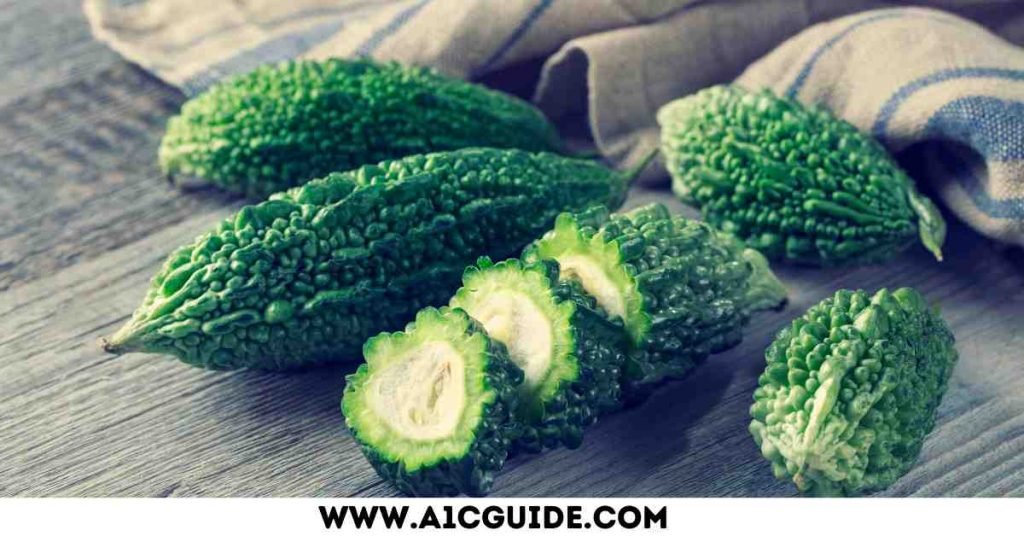 How Do You Add Bitter Melon to Your Diet? 
There are various forms in which you can add it to your diet. You can have it as a vegetable, and its supplements are also available in the market. This can be found canned, pickled, dried, and fresh.
People who prefer cooked melon can make stuffed, salad, or stir-fried bitter melon. One can also get liquid beverages of bitter melon, such as teas and juices. The seeds, flowers, and even the leaves of bitter melon are good for diabetes.
How Does It Treat Diabetes? 
Bitter melon for diabetes is good as it helps glucose to enter cells and process it. Then they store it in muscles, fats, and the liver. They do not let the nutrients change their form into glucose and release them in your blood. This will help your body to absorb all the nutrients without increasing the sugar levels.
Some people get confused about that is bitter melon better than metformin. Yes, because bitter melon significantly affects hypoglycemia and is considered more effective in reducing fructosamine.