A Quick Insight On The Benefits Of Passion Fruit For Diabetic Patients
In addition to being a good source of fiber, passion fruit is also a good source of vitamin C and A even though it's a good option for people of all ages' diets.
Eating a lot of passion fruit includes a more muscular immune system, better heart health, stronger bones, better sleep, and lower cancer and respiratory disease risk. In this article, we will look at the utility of passion fruit for diabetes.
Is passion fruit tea good for diabetes? This is an important question. A passion fruit diet can help diabetics lose weight. Passion fruit can help you better control your diabetes, as you'll see in this article.
Iron, potassium, magnesium, and calcium are present in passion fruit.
Polyphenol, a plant component that comprises Piceatannol, is also present. Diabetes, in particular type 2 diabetes in men, can be prevented with Piceatannol's support by enhancing insulin levels.
Passion Fruit's Benefits for Diabetics
Pectin, a fiber found in yellow passion fruit peels, has been shown to reduce insulin resistance and hence be helpful to health.

Low GI (Glycemic Index) makes passion fruit a good option for those with diabetes.
Passion fruit's high concentration of vitamins A and C helps to stabilize blood sugar levels, making it an excellent choice for people with diabetes.

Passion fruit has a low sugar level, which makes it a good choice for people with diabetes.
Passion Fruit Juice
It's best to use blenders to avoid popping the passion fruit seeds. Squeeze in lemon if desired and strain the juice before mixing with 12 cups of water.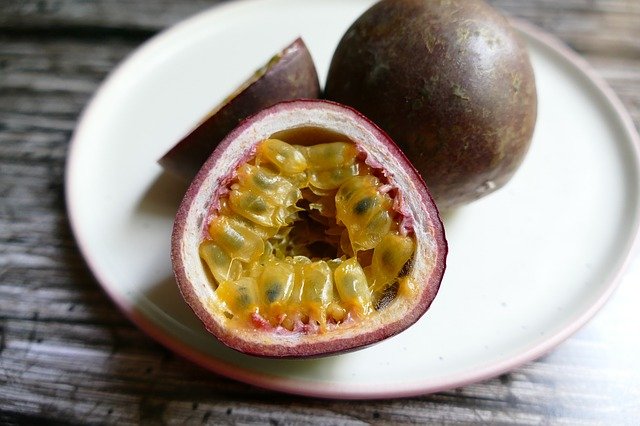 Combine thoroughly and store in the refrigerator. Juice should be consumed no more than once a day. To get the most out of the juice's health benefits, people with diabetes should avoid adding more sugar.
Passion Fruit Flour
Yellow passion fruit is the only type of fruit that can be used in this recipe. Fruit peels are simply dehydrated and ground to produce a fine powder. Pectin, a soluble fiber that enhances insulin sensitivity, is found in high concentrations in this product.
Leaves of Passion Fruit
All components of the passion fruit, especially the leaves, are incredibly nutrient-dense. Passion fruit leaves have the ability to lower blood sugar levels, which is beneficial for diabetics.
Eating these leaves in salads, over rice, pasta, and even passion fruit tea is possible.
Best Time to Eat Passion Fruit
Passion fruit has spawned several beliefs about when it's best to consume it. At any hour of the day or night, passion fruit can be enjoyed.
Eating fruits with meals high in carbohydrates, lipids, and fiber is better if you have a sugar addiction. When eating fruit on an empty stomach or in isolation, blood sugar levels can vary, which can be dangerous.