Mango is a delicious tropical fruit. It has been grown in South and South-East Asia since ancient times. It is the national fruit of India, Pakistan, and The Philippines. There are over a hundred varieties of mango which belong to the Anacardiaceae family.
It is delicious and contains all the necessary vitamins and nutrients. It is an excellent addition to almost any diet.
It also has several health benefits, including the prevention of diabetes. Mango peels are also highly beneficial for people with and without diabetes.
Mango And Diabetes
Many people have the question, "Can diabetics eat mango." Let us have a look at the answer-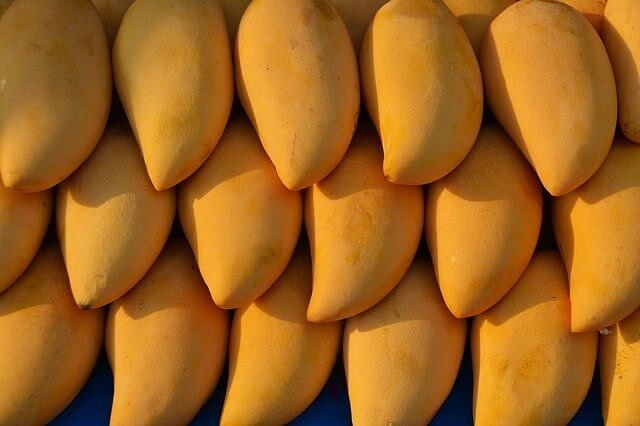 Mango is a fruit packed with nutrition. It is incredibly healthy for people with and without diabetes. However, it is naturally sweet, and experts advise consuming it in moderation. People with diabetes should not consume more than 1-2 mangoes a day.
Let us have a look at the various health benefits of mango.
Benefits Of Mango For Diabetics
1- Filled With Nutrients
Mango is a delicious fruit packed with nutrients. It is rich in fiber, vitamin A, vitamin C, iron, protein, and potassium. It has shallow carbs and is an excellent addition to almost any diet.
2- Low In Calories
There are very few calories present in mango. One cup of mango has fewer than 100 calories. Fruits generally do not have high caloric content. However, people with diabetes should eat mangoes in moderation because they are naturally sweet.
3- Help Prevent Diabetes
Mangoes are rich in fiber and possess essential vitamins. Many people wonder, "Can diabetics eat mango." The answer to this question is a big yes. Mangoes can be beneficial for people with diabetes if eaten in the right amounts. However, excessive intake of fruit may contribute to insulin spikes.
4- Contain Healthy Plant Compounds
Mango contains plenty of healthy plant compounds. It consists of mangiferin, catechins, anthocyanins, gallic acid, kaempferol, rhamnetin, benzoic acid. It also provides essential antioxidants to the body.
5- Helps To Fight Cancer
Mango contains essential antioxidants such as fisetin, quercetin, etc. These antioxidants prevent several types of cancers, including breast and colon cancer.
6- Assists In Weight Loss
Foods rich in fiber prove to help reduce weight. Mango has high fiber content, vitamins, and nutrients. Having it keeps one complete for a long time and cuts down carbohydrate intake.
7- Prevents Heart Diseases
Mango contains several nutrients that promote heart health. It contains magnesium, potassium, and various other antioxidants, which keep the heart healthy.
8- Strengthens The Immune System
Mango is packed with nutrients that have various health benefits. It helps prevent multiple chronic diseases such as cancer, heart stroke, etc. Therefore, it proves to help strengthen the immune system.
9- Improves Digestion
Mango contains several enzymes that promote digestive health. It also has high water and fiber content which helps digest protein and glucose.
10- Supports Eye Health
Mango has several vitamins and minerals which are known to promote eye health. Vitamin A in mango is highly beneficial for the eyes. It also consists of lutein and zeaxanthin, which protect the eyes from the sun.
FAQs
How Much Sugar In A Sweet Mango?
Mango is comparatively high in sugar. It has a glycemic index of 51 and contains about 22 grams of sugar in a cup. However, food under a glycemic index of 55 is not harmful to people with diabetes.
Can Diabetics Eat Raw Mango?
Yes. People with diabetes can eat raw mango in a controlled manner. Consuming 1-2 mangoes in a day does not cause any harm. However, eating them in a large number can contribute to insulin spikes.
Can Diabetics Eat Mango Pickle?
Yes. Mango pickle is an excellent option for people with diabetes because of their low caloric content. It may also help in lowering blood sugar levels.
Does Mango Raise Blood Sugar?
Mangoes contain natural sugar, and having them in large amounts may raise blood sugar. However, having them in a moderate quantity does not cause any harm. Its fiber and vitamin content may help shrink the overall impact of sugar.
Top 3 Mango Items To Buy On Amazon!
Conclusion
Mango is delicious and nutritious food. It is an easy addition to your diet and has a glycemic index of 51. It is a healthy option for people with and without diabetes if eaten moderately.
It has several essential vitamins, minerals, antioxidants, and fiber. It has various health benefits, including lowering blood sugar, preventing chronic diseases, and assisting in weight loss.
Therefore, the answer to "Can diabetics eat mango" is a definite yes.