Top 10 Best Diabetic Bracelets For Men & Women Reviews
Top 10 Best Diabetic Bracelets For Men & Women Reviews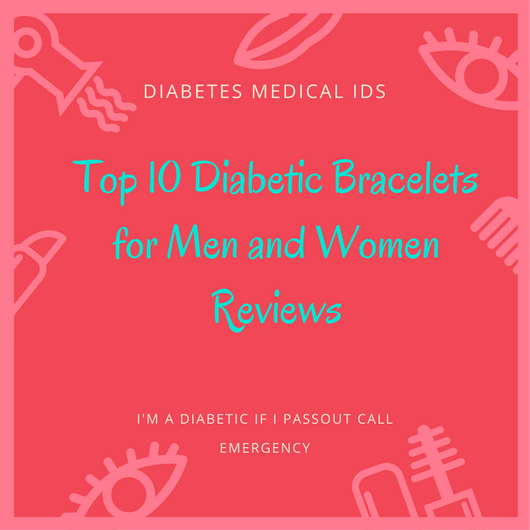 Hypoglycemia and other diabetes-related emergencies can happen anytime. Regardless of the cause of the crisis, diabetes awareness bracelets can play a critical role. It can even save the lives of the diabetic patients.
These bracelets speak for patients who can't converse at the moment of emergency. The medical personnel will still be able to know the health condition and the medications that patients need through their diabetic medical alert bracelets.
If you wanna know about Diabetic Socks 
There are a lot of medical ID bracelets in the market today. Below are the reviews for the top 10 diabetic bracelets for men and women.
MyIDDr 316L is an ideal diabetic alert bracelet as it comes with a lifetime warranty. It also comes with a customizable black engrave that is very readable. Additionally, its size is customizable as well and can be resized if necessary. It's non-corrosive steel ID plate, and the curb-style chain is also a perfect design from teens to adult-age patients.
MyIDDr 316L bracelet already has 36 reviews from customers. By considering all their feedbacks together with the editor's assessment of the product, our rate would be 9.8/10 stars. Most of the reviews show the excellent quality of the medical ID bracelet and its features.
One of the customers said that she was hugely impressed with the product and recommends this company. According to her, all information was perfectly engraved, and the bracelet itself is very durable and fitted her wrist well.
On the other hand, one review had a very minimal concern with the bracelet. The user didn't expect that the engraving would be at the back of the bracelet and it was shallow that it may wear off quickly. For more information, check on the other MyIDDr 316L bracelet reviews.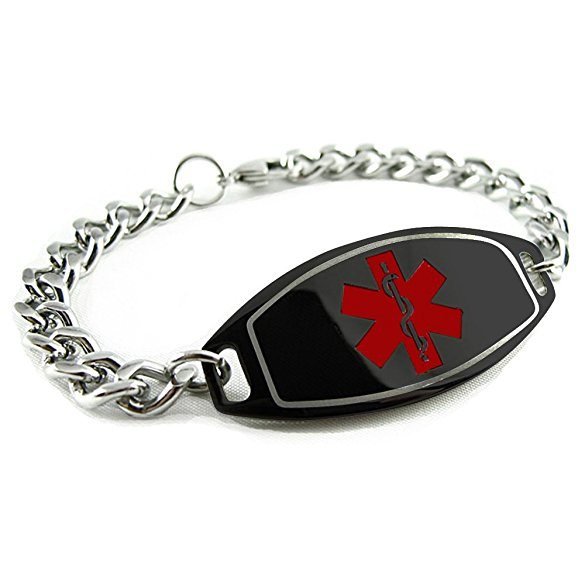 This silicone sports bracelet from Universal Medical Data could be one of an ideal diabetic bracelet for women as well as for men. It is one of the company's best-selling medical bracelet that is hypoallergenic and comes with an Emergency Medical Card with a Tyvek sleeve.
This medical card contains a more detailed information of the patient's type 1 diabetes bracelet, type 2 diabetes bracelet or any other type of diabetic medical alert bracelets.
Some of the product's other features include being fashionable and water resistant.  The length of the silicone strap is resizable and comes in different colors, and it is easy to wear on and off with its accordion style double lock clasp.
Additionally, the stainless plate of the bracelet can be engraved with five lines with 36 characters of a personalized text. The engraving is also a high-contrast of black letters making the text more readable. Lastly, the bracelet is embossed with a "Star of Life" symbol which is known to medical responders advising a patient's medical conditions.
With mostly positive comments among its 373 reviews and assessing the product's qualities and other features, our rate for the product would be 9.2/10 stars. It is evidently, overall, a high-quality and useful product because of its several features.
A review of the customers tested the usefulness of the product as it had saved her life when she got into an emergency situation. She also said that it is very comfortable to wear and easy to clean. She mentioned that it could be worn literally at anytime and anywhere including salt water, chlorinated pools, and gym.
A minor concern according to another customer is that it may be better if the "Star of Life" sign could be placed on the front part rather than the back. This way, it is more recognizable. But other than that, he thought that the product was very durable and comfortable.
You may also read the other Silicone Sports Medical Bracelet reviews to know more about the product.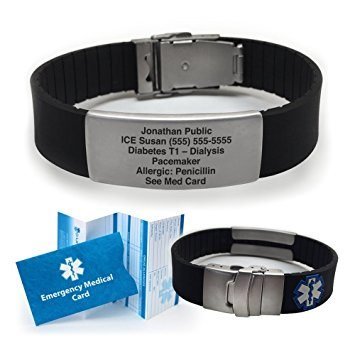 Manufactured by Vnox, this Link Chain Wrist Medical Bracelet can be used as a diabetes awareness bracelet or for other medical conditions. On its solid matte finish stainless plate, your customized information can be engraved on both the front and the back part. This way, you can include more details of your medical condition. You can also choose from 8 different font styles for the engraving.
There are 208 customer reviews with 190 of them giving positive feedbacks. Our evaluation of Vnox's Link Chain Wrist Medical Bracelet is that it is a 9.2 out of 10 stars. The product is very durable and high-fashioned. You can also include more information as engraving can be both back and front, which makes it great.
A diabetic customer's review said that the bracelet makes him comfortable knowing that others can recognize it in an instant, especially in emergency situations. But on the downside, a minor problem could be the sizing as said by one the customers. He had to adjust the size so it would fit him, but other than that, he thought that the product was great.
Check out other reviews for Vnox Men's Link Chain Wrist Medical Bracelet.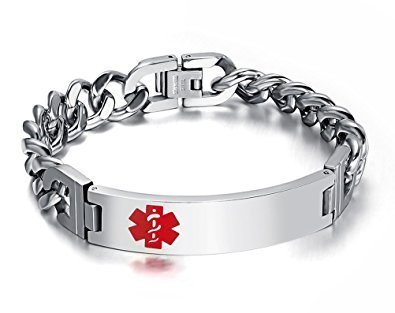 This Universal Medical Data's Medical ID is perfect for diabetic patients looking for a type 1 diabetes bracelet. It already has a pre-engraved "Diabetes Type 1" on its reversible plate where you could put a more detailed information about your type 1 diabetes. The bracelet itself is also slimmer for more comfort.
One of this Medical ID bracelet's most useful feature is its embossed "Star of Life" symbol which is known by medical responders as an indication of a medical condition. It is also waterproof, and its straps come in four different two-toned colored designs.
It has a sophisticated style and is very fashionable. Its lock system is an accordion style double lock clasp and comfortable to wear on and off, and its length is customizable. The bracelet also comes with a medical card that you can update regularly and is engraved with readable text with black letters.
With its great features and by seeing all 15 reviews with mostly great feedbacks, this product deserves an 8.6 out of 10 stars. As a proof of its quality, one review said that it is great and would recommend the product. It is very light and comfortable, wearable in all types of environments doesn't rotate or move on wrists, and has a great double lock mechanism.
Some of the customers are having a minor issue with the locking system because they have a hard time to close and open it. Aside from that, they find it great and the lock doesn't open by itself.
Click on the link to check other reviews for Reversible Slim Sports Medical ID Bracelet.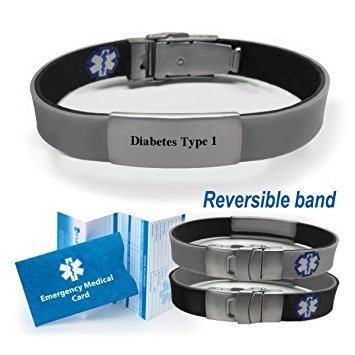 This medical ID bracelet is both high as diabetic bracelets
for women and types two diabetes bracelet. It is highly fashionable compatible to style with Pandora beads and pre-engraved with the "Star of Life" on the front which color can be customized. The "Type 2 Diabetes" at the back of its stainless plate.
With its uniqueness and useful features, we give this N Style's medical bracelet a 9.4/10 stars rating. Most of the reviews for the product were great with one saying that you won't be disappointed with its jewelry type quality and its nice weight.
One customer had a little trouble with clasping the hook while locking the bracelet but still said that it was great overall.
You may check more of the customers' review on N-Style Purple Pan-Dora Style Medical ID Bracelet.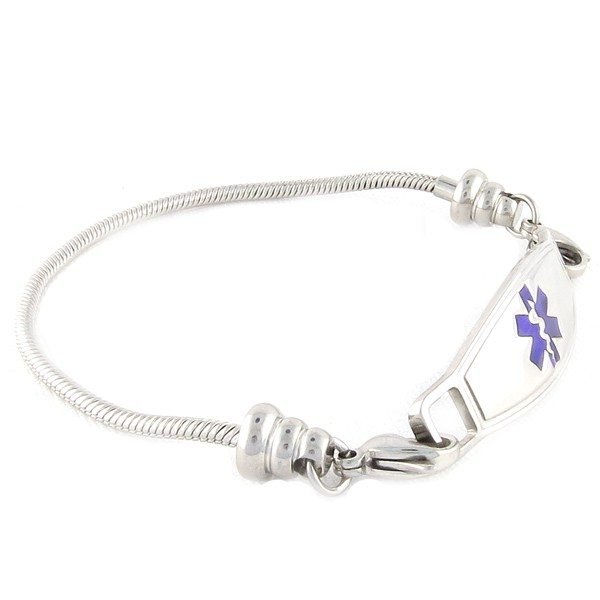 Black Satin Heart Medical ID Bracelet is very fashionable with its matte finish sleek style and bright silver tone accents. It is perfect for daily wear as it is extremely durable, water resistant, and made with stainless steel.
The bracelet can be used as diabetic id bracelets as it has a pre-engraved "Star of Life" at the front and can be added with engraving at the back for your diabetic medical conditions. With its style and design, it is also excellent as diabetic bracelets for women. Also, the bracelet is also customizable depending on the size preferred by the customers.
Looking into its quality and the great feedbacks from most of the 29 reviews, this product truly deserves a 9/10 rating. One of the great reviews from the customers said that the bracelet is beautiful, looks nice with anything she wears and that it isn't bulky. She even was able to have her two medical conditions engraved at the back and is still very readable.
One of the customers had a slight problem with the size, which might not be uncommon since the sizing comes from the customers. There are those who may not be very knowledgeable on how to properly measure the sizing. But the good thing is it can be resized at any jewelry stores.
View the other Hope Paige Medical's Black Satin Heart Medical ID Bracelet reviews for more information about the product.

Made of a non-allergenic and durable high-grade stainless steel, this medical ID bracelet can be used by diabetic individuals as diabetic id bracelets. It is professionally engraved with long lasting personalized information with 1 – 5 lines and a maximum of 20 characters per line.
The curb style chain bracelet has a standard 8-inch length but can be easily adjusted for slimmer wrists by following instructions for the sizing.
According to the features, the product is great overall. Seeing that the customers were not only satisfied with the product but were also given full assistance by the seller, we give this a rating of 8.8 out of 10 stars.
One of the customers bought this medical ID bracelet for his son who has many allergies, and she was very delighted that she didn't see any allergic reactions with his son by wearing the bracelet. She also said that the seller did a fantastic job with the sizing since he personally called the customer to make sure that the bracelet will fit his son.
While one of the customers had a minor problem with the sizing which he had to adjust to becoming smaller but mentioned that overall, he likes it.
If you would like to know more about the product, read more MakeMeThis' IDB-11 Medical ID Bracelet reviews.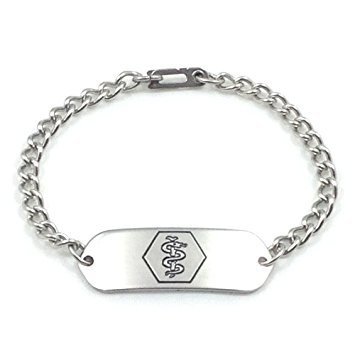 Manufactured by Universal Medical Data, this leather medical ID bracelet is made with genuine Cowhide Top Grain Tan leather. The product includes an Emergency Medical card where you can print detailed information about your medical condition with a protective sleeve.
The bracelet can be used as a diabetic alert bracelet as it can be engraved with personalized 6-line diabetic condition and information of up to 26 high contrast black characters. Its strap is adjustable up to 8 ¼ inches. It also has a separate smaller plate engraved with the "Star of Life."
Of the seven reviews, one of the customers said that the delivery was fast and got the product exactly as she ordered it. He also highly recommends it for being fantastic, beautiful and high quality. So overall, he said that he is very satisfied with the product.
Therefore, with no negative review and the great features of the product, we easily give this medical bracelet a 9.9/10 stars rating.
Check out the other fantastic reviews for Top Grain Tan Leather Medical ID Bracelet.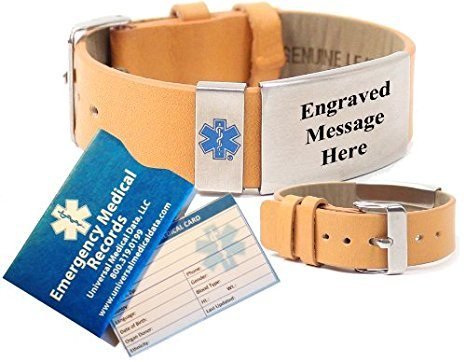 Customer ID Product's Medical ID Bracelet has a lot more features and specifications other than being hypo-allergenic. It is durable, easy to read and comes with personalized engraving for up to 3 lines.
It is installed with a lock system of "sister hook clasp" which designed to stay on securely. It also comes with a free wallet card where you can put a printed detailed information about your medical condition.
With 177 reviews, the product got a lot of positive feedbacks with very minimal negative ones. So together with considering its great features, the rate we would give for this is an easy 8.6/10 stars.
One of the negative comments was about the engraving on the back side of the plate which is not easily visible. This is very minor as medical responders were trained to look on both sides of medical ID plates.
On the brighter side, a lot of customers liked the product. One customer's review said that the engraving was perfect. She even wears it at all times as it is very comfortable, not too heavy and not too light. She also commended the seller's customer service which was overall very outstanding.
To view more of the vast information about the bracelet, check out reviews of Custom ID Product's Hypo-Allergenic Stainless Medical ID Bracelet.

This product from Mealguet Jewelry is perfect as any medical bracelet for any medical conditions for its unique specifications. Its greatest features are its durability and the deep black engraving which makes it very readable in cases of emergency. It also comes with a lifetime warranty. The product is sold with a free gray velvet bag which is perfect if you'll get the bracelet as gifts.
Most of the people who purchased the Medical ID bracelet was greatly impressed by it and left positive reviews. One of the customer's review stated that the bracelet is amazing with its beautiful and clear engraving. She also mentioned that she is extremely pleased with the readability and quality of the product.
But for one customer, he thinks that the letters were too small for him, but he still said that it fits him well and that the bracelet was great overall.
By carefully considering all the 105 reviews and the features and specification of the product, we rate this medical ID bracelet 8.6/10 stars rating.
For more information about the bracelet, check more reviews on High Polished Stainless Chain Medical ID Bracelet for Men and Women.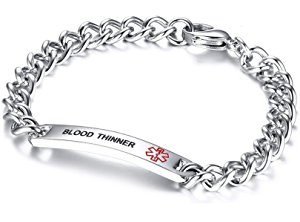 A lot of diabetic ID bracelets and other medical bracelets are available in the market today. The products mentioned above are the top 10 diabetic bracelets for men and women and their reviews. This can help you decide which product best suits your needs.
With a lot of great designs, styles, and features they have today, it is still its usefulness in cases of emergency that is important. Overall, the ten diabetes awareness bracelets mentioned above are great and can save the lives of diabetic patients in cases of emergency situations, without compromising the style and comfort.
READ OUR OTHER ARTICLES!
SOME HONORABLE MENTIONS
References:
https://www.americanmedical-id.com/diabetes